Basketball Squares Pool Template
---
Our
FREE
Basketball Squares Pool Template can be used for your next office pool. Enter the Home and Away teams into the template, as well as randomly drawn numbers from 0 to 9. Determine payouts and then print the template as a sign-up sheet. Players enter their name into squares based on their guess at the last digit in the score for each quarter.
This template can also be distributed electronically for sign-up. Be sure to display the completed spreadsheet on your bulletin board - winners like to see their name on display!
Click on the below image or link to download the spreadsheet. Choose
"Open"
to immediately open the template for editing, or choose
"Save"
to save the template to a location on your computer.
If this spreadsheet does not meet your needs, consider a
Custom Spreadsheet
solution.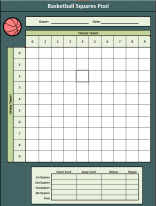 Click here to download our FREE Basketball Squares Pool Template
Note:
All Practical Spreadsheets work with Microsoft Excel. Most also work with Google Docs and Open Office.
Return to Complete List of all Sports Pool Templates