Contact and Address Spreadsheets
---

Below are FREE contact and address spreadsheets that can help you better manage your personal or business contacts. These spreadsheets can be used to organize your contacts, document sales prospects, track birthdays, manage phone numbers, or create mailing labels.

All Practical Spreadsheets are easy to use and have pre-defined print areas. Most also include comments to aid in data entry.

If these spreadsheets do not meet your needs, consider a Custom Spreadsheet solution.





FREE Simple Contact List Use our Simple Contact List Spreadsheet to record your personal or business contacts.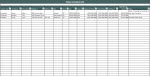 FREE Sales Contact List Use our Sales Contact List Spreadsheet to track your customers and prospects, record last contact dates, and document notes.






Note: All Practical Spreadsheets work with Microsoft Excel. Most also work with Google Docs and Open Office.



Return From Contact and Address Spreadsheets to Practical Spreadsheets Home Page