Home Organization Spreadsheets
---

Below are FREE home organization spreadsheets. These spreadsheets can be used to organize grocery shopping, plan meals, or coordinate vacations.

All Practical Spreadsheets are easy to use and have pre-defined print areas. Most also include comments to aid in data entry.

If these spreadsheets do not meet your needs, consider a Custom Spreadsheet solution.






FREE Grocery List Template
Use this Grocery List Template to categorize your grocery needs and organize your grocery store visits.




FREE Weekly Meal Planner
Use this Weekly Meal Planner to organize your meals and plan grocery shopping.




FREE Vacation Checklist Spreadsheet
This Vacation Checklist can be used to coordinate multi-party beach vacations.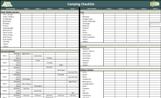 FREE Camping Checklist Spreadsheet
This Camping Checklist can be used to coordinate multi-party camping trips.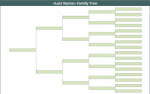 FREE Family Tree Template
Our Family Tree Template can be used to document your lineage back five generations.







Note: All Practical Spreadsheets work with Microsoft Excel. Most also work with Google Docs and Open Office.



Return From Home Organization Spreadsheets to Practical Spreadsheets Home Page