Childcare Log
---

Use our FREE Childcare Log template to record a child's food consumption (bottles,) naps, milestones, and medicine. This log can be used by babysitters or daycare providers. Enter the child's name into the spreadsheet, and then print the template.

The template will print on three pages and offer a log section for each day of the week. As the week progresses, record activities on the template. At the end of the childcare session, provide the template to the child's parent/guardian.

Click on the below image or link to download the spreadsheet. Choose "Open" to immediately open the template for editing, or choose "Save" to save the template to a location on your computer.

If this spreadsheet does not meet your needs, consider a Custom Spreadsheet solution.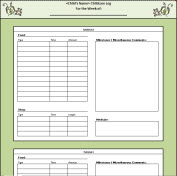 Click here to download our FREE Childcare Log


Note: All Practical Spreadsheets work with Microsoft Excel. Most also work with Google Docs and Open Office.



Return to Complete List of all Childcare Spreadsheets