Vacation Checklist
---
Use our
FREE
Vacation Checklist to make certain you have everything you need for your next beach vacation. Ever get to the beach and realize you forgot your favorite flip flops? Never again!
This checklist can accommodate up to four parties vacationing together. The checklist includes categories such as linens, food, clothing, paper products, and baby items. This spreadsheet will help you organize who is bringing what. Simply put an X in each party's column if they are to bring the selected item.
Click on the below image or link to download the spreadsheet. Choose
"Open"
to immediately open the template for editing, or choose
"Save"
to save the template to a location on your computer.
If this spreadsheet does not meet your needs, consider a
Custom Spreadsheet
solution.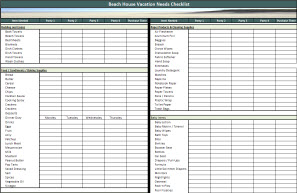 Click here to download our FREE Vacation Checklist


Note: All Practical Spreadsheets work with Microsoft Excel. Most also work with Google Docs and Open Office.



Return to Complete List of all Home Organization Spreadsheets