Charitable Donation Receipt
---
Our
FREE
Charitable Donation Receipt can be used to itemize your donations for tax deduction purposes. The spreadsheet will automatically calculate the value of the most commonly donated items. A low, average, or high value can be selected per item. Values are based on national averages from Salvation Army, Goodwill, and other charitable organizations.
Our Charitable Donation Spreadsheet offers signature lines and can be printed as a receipt. It can also be used in its electronic format as a log or calculator for donation tracking purposes. This spreadsheet makes donating a breeze!
Click on the below image or link to download the spreadsheet. Choose
"Open"
to immediately open the template for editing, or choose
"Save"
to save the template to a location on your computer.
If this spreadsheet does not meet your needs, consider a
Custom Spreadsheet
solution.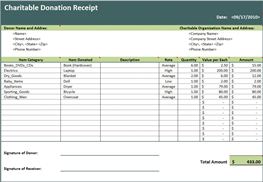 Click here to download our FREE Charitable Donation Receipt


Note: All Practical Spreadsheets work with Microsoft Excel. Most also work with Google Docs and Open Office.



Return to Complete List of all Charitable Donation Spreadsheets