Expense Tracker Spreadsheet
---

Our
FREE
Expense Tracker Spreadsheet can be used to record expenses for various purposes. Use the spreadsheet to document expenses for your small business, your wedding, a business trip, or any other project.

The expense log allows you to define standard expense categories as well as payment methods. The spreadsheet calculates a grand total for all expenses, as well as totals per expense category. This spreadsheet will help you gain control over your purchases.

Click on the below image or link to download the spreadsheet. Choose
"Open"
to immediately open the template for editing, or choose
"Save"
to save the template to a location on your computer.

If this spreadsheet does not meet your needs, consider a
Custom Spreadsheet
solution.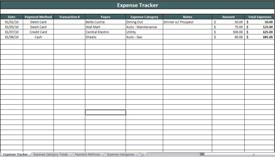 Click here to download our FREE Expense Tracker Spreadsheet
Note:
All Practical Spreadsheets work with Microsoft Excel. Most also work with Google Docs and Open Office.




Return to Complete List of all Budget and Finance Spreadsheets