Invoice Template
---
Our
FREE
Invoice Template Spreadsheet is designed to look professional and classic. The spreadsheet automatically calculates totals and balances. The template has fields for Invoice Number, Invoice Date, Customer ID, Customer Address, Payment Terms, Due Date, Goods Sold, Quantity, Unit Prices, and Totals.
The template can be used when billing customers for goods or services. Combine this spreadsheet with our
Purchase Order Template
and our
Packing List Template
for a fully professional suite of business documents.
Click on the below image or link to download the spreadsheet. Choose
"Open"
to immediately open the template for editing, or choose
"Save"
to save the template to a location on your computer.
If this spreadsheet does not meet your needs, consider a
Custom Spreadsheet
solution.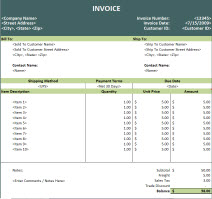 Click here to download our FREE Invoice Template Spreadsheet


Note: All Practical Spreadsheets work with Microsoft Excel. Most also work with Google Docs and Open Office.



Return to Complete List of all Business Form Templates