Loan Amortization Schedule
---

Our FREE Loan Amortization Schedule is a one stop shop for all traditional loans. This spreadsheet automatically calculates your monthly loan payments, and your final paid amount (including interest.)

Use this spreadsheet to plan for your next mortgage or auto loan. This spreadsheet offers an option to pay extra each month. If you enter extra payments, the spreadsheet will recalculate your last payment date, as well as modify your final paid amount.

Click on the below image or link to download the spreadsheet. Choose "Open" to immediately open the schedule for editing, or choose "Save" to save the schedule to a location on your computer.

If this spreadsheet does not meet your needs, consider a Custom Spreadsheet solution.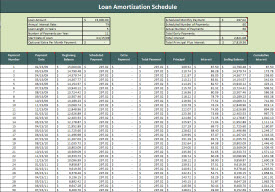 Click here to download our FREE Loan Amortization Schedule


Note: All Practical Spreadsheets work with Microsoft Excel. Most also work with Google Docs and Open Office.



Return to Complete List of all Loan and Calculator Spreadsheets