How to Create Mailing Labels
---

Our FREE Mailing Labels document will guide you step by step through creating labels in Microsoft Word from a contact list setup in Microsoft Excel. Labels are great for Holiday cards, wedding invitations, and many other mass mailings. If you don't already have an Excel contact list, consider using the FREE Contact List we offer.

The below document is designed for use with Microsoft Word and Excel version 2007. This document is a pdf file and can be opened with Adobe Reader.

Click on the below image or link to download the document. Choose "Open" to immediately open the file, or choose "Save" to save the file to a location on your computer.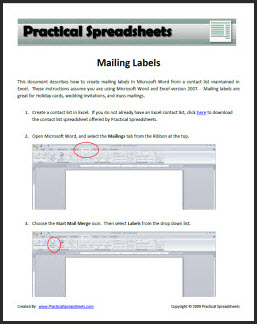 Click here to download our FREE Mailing Labels Document




Return to Complete List of all Excel Tips & Tricks