Meal Planner
---

Use our FREE Meal Planner Spreadsheet to document your meals for the week and organize your grocery needs. This spreadsheet is a 7 day, weekly planner. It includes breakfast, lunch, dinner, and notes.

After completing the spreadsheet, hang it on your refrigerator as a reminder. At the start of every week, review your meal plan and purchase groceries accordingly. Doing this will prevent repeat trips to the grocery store.

Click on the below image or link to download the spreadsheet. Choose "Open" to immediately open the template for editing, or choose "Save" to save the template to a location on your computer.

If this spreadsheet does not meet your needs, consider a Custom Spreadsheet solution.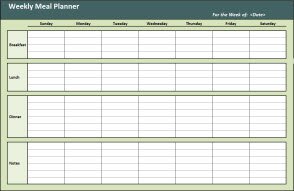 Click here to download our FREE Meal Planner Spreadsheet


Note: All Practical Spreadsheets work with Microsoft Excel. Most also work with Google Docs and Open Office.



Return to Complete List of all Home Organization Spreadsheets