Sales Contact List Spreadsheet
---
Our
FREE
Sales Contact List spreadsheet can be used to record your customers and/or prospects. The spreadsheet allows you to document addresses, phone numbers, date of last contact, notes, etc. You can sort your contacts by last name, contact type (customer / prospect,) date of last contact, etc.
This spreadsheet will help you organize and better your business relationships. In addition, if you need to send out a mass mailing, you can use this spreadsheet with Microsoft Word to create
mailing labels
. See our
Mailing Labels
document for additional information.
Click on the below image or link to download the spreadsheet. Choose
"Open"
to immediately open the spreadsheet for editing, or choose
"Save"
to save the spreadsheet to a location on your computer.
If this spreadsheet does not meet your needs, consider a
Custom Spreadsheet
solution.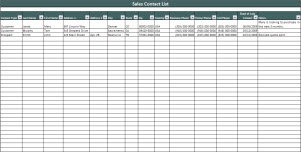 Click here to download our FREE Sales Contact List Spreadsheet


Note: All Practical Spreadsheets work with Microsoft Excel. Most also work with Google Docs and Open Office.



Return to Complete List of all Contact and Address Spreadsheets