Weekly Planner Spreadsheet
---
This
FREE
Weekly Planner Spreadsheet can be used as an electronic scheduler, or printed for display purposes. The Planner features all days of the week and allows for plannnig from 5:00am to 11:30pm. Enter appointments, reminders, birthdays, meetings, etc.
The print area on the spreadsheet is pre-set, so you can easily print the Planner to carry with you. Never miss an important appointment again!
Click on the below image or link to download the spreadsheet. Choose
"Open"
to immediately open the template for editing, or choose
"Save"
to save the template to a location on your computer.
If this spreadsheet does not meet your needs, consider a
Custom Spreadsheet
solution.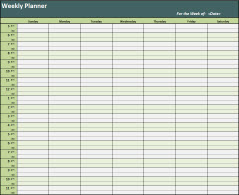 Click here to download our FREE Weekly Planner Spreadsheet


Note: All Practical Spreadsheets work with Microsoft Excel. Most also work with Google Docs and Open Office.



Return to Complete List of all Calendar and Schedule Spreadsheets